At Drake's, we're known for our beer, BURGERS and sushi, so when we heard there was a whole week dedicated to burgers, we had to join in on the fun! Come play at Drake's St. Matthews and Paddock Shops for Louisville Burger Week July 24 through 30. We're featuring The BLT Burger for just $5! Our Culinary Director Chef Alan took two classics, a burger and a BLT, and came up with the ultimate mash-up. A fresh, never frozen 8 oz burger with hickory-smoked bacon, iceberg slaw, jalapeno-green tomato jam and Parmesan-garlic mayo on a butter-toasted bun. Try for yourself at either Drake's location (dine-in only, served a la carte.)

DRAKE'S ST. MATTHEWS
3939 Shelbyville Road
Louisville, KY 40207
502-614-7327
DRAKE'S PADDOCK SHOPS
3921 Summit Plaza Drive
Louisville, KY 40241
502-384-3921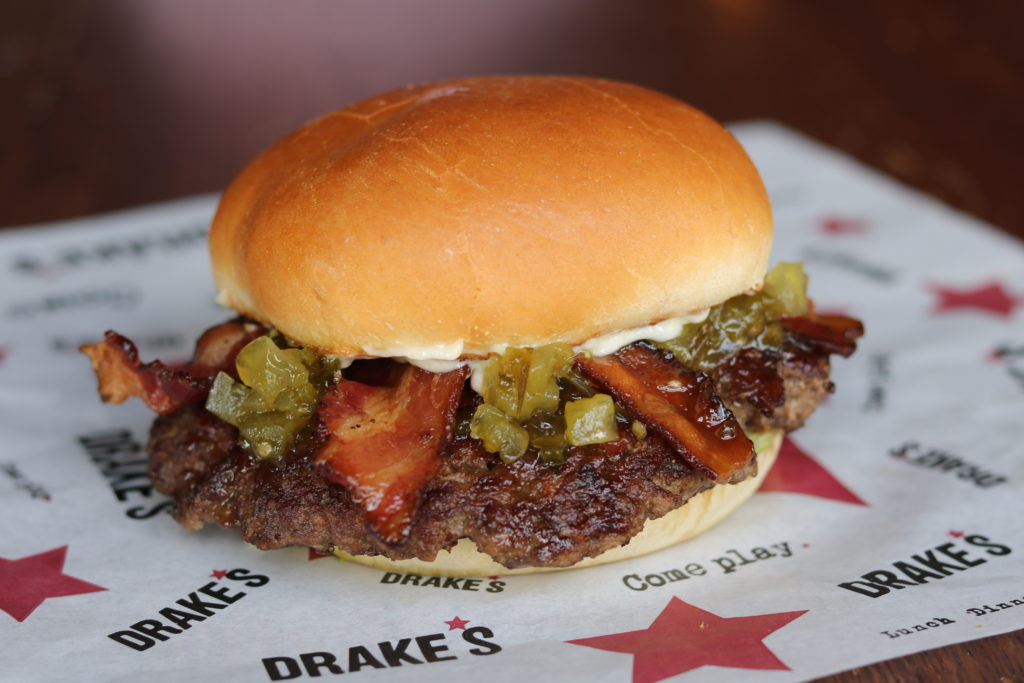 The even better news? You have the chance to win burgers for a year from Drake's! One lucky winner will receive a free burger* every week from Drake's St. Matthews or Paddock Shops. Visit the Louisville Burger Week website to learn more.

Louisville Burger Week – July 24-30
*Here is how it will work.  We will provide a re-loadable gift card for your use over the next year.  Fifteen dollars will be available for spend each week.  Should you spend more than fifteen dollars, you will simply pay the difference.  Should you not spend the full amount, that is okay too.  However, the remainder of the balance will not roll over into the following week.  You can use the gift card at either Drake's location in Louisville.  It includes tax, excludes gratuity. To claim prize winner must be available for photo opportunity.